Wire Cutting For The 21st Century
Our dedicated Wire EDM section with 11off Charmilles machines offers the latest Clean Cut Technology to minimise any re cast layer, this enables us to achieve surface finishes of 0.2μM Ra or better.
Supported with Charmilles Spark Eroding capability and Charmilles EDM hole drilling machines, we offer a vast machining capacity with over 500 hours available each week working a single shift.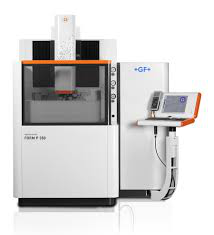 PSM can accommodate any type of work from high volume production work to small batch & one off requirements, with the largest capacity of 800mm x 530mm x 510mm with a Maximum load of 3000 kg.